If you think Project Life is just for memory keeping, then I've got a surprise for you! The card sets designed to quickly slip into the Project Life Photo Pocket Pages also make great patterned layers for cards and other paper crafting projects. Add in the stylish coordinating embellishments from the Project Life Accessory Packs and you have even more creative options at your disposal!
The Seasonal Snapshot Project Life Accessory Pack includes fall, school, Halloween, Thanksgiving, Christmas and winter themed acetate sheets, stickers, and other embellishments that can transform into non-scrapbooking projects beautifully and easily!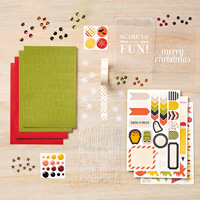 For example: The Seasonal Snapshot Project Life Accessory Pack includes printed acetate sheets that make great layers, confetti, pockets or pop-ups in cards. The self-adhesive acrylic dots from the set come in solid colors and designs that look great on cards and wall décor. Of course, Washi Tape is hugely popular for all types of paper crafting projects and the polka-dot design on the roll included in the accessory pack works for many seasons and events.
And I haven't even touched on the sticker and letter-sticker sheets and the sequins in a variety of colors and shapes that make great accents on cards and gift items.
Here's one of my projects using the accessory pack: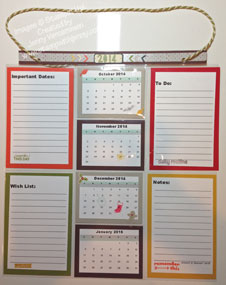 Using the Project Life page protector and solid cardstock, I created a Hanging Calendar and Holiday Organization Station. In addition to four months of calendars, I have notes for my To Do List, kids' Wish Lists, dates to keep track of, and a notepad. All decorations came from the Seasonal Snapshot Accessory Pack and the Holiday Cheer Photopolymer Stamp Set, and it hangs from the Old Olive Two-Tone Bakers' Twine.
I think you'll find the Project Life Accessory Packs to be full of creative fun and a great value! What will you create with them?