About Stampin' Up!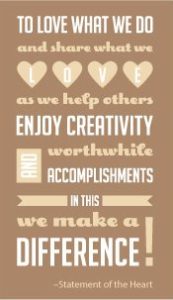 My passion for crafting led me to become a Stampin' Up!© Demonstrator in 2003. Since then, I've had so much fun meeting crafters all over the country, teaching techniques, sharing design ideas, and introducing Stampin' Up! products to many people.
The Stampin' Up! collection is designed to help crafters (re)discover and express their creativity. There are so many coordinating product suites in the catalog that it makes it easy to be sure I've got everything I need to create my project. Add in the best-in-industry color coordination, and I can be confident that those products will always work together however I choose to mix and match them. With Stampin' Up! products, I guarantee you'll find you don't have to have a lot of time, money, or even artistic talent in order to make beautiful things. All you really need is a creative spark, a handful of materials, and a little bit of direction… And then you can make something that makes a difference.
About Stamp With Jenny
Whether you're new to Stampin' Up! or interested in learning more advanced techniques, I can help you. For those in northern Illinois, southern Wisconsin, and the Chicago area, I can come to your home and hold a demonstration party or private hands-on class for you and your friends. I also host local events during the year.
If you're outside the area, you can find projects, tutorials, and other information here on my website. You can also find project ideas in my newsletters and on my Facebook page. All of the products I use are available for purchase through the Stampin' Up! online store.
With Stampin' Up! rubber stamps, you'll quickly be creating designs that you never thought possible and will have others asking you how you ever found the time to make something so beautiful!
My Promise
It's always surprising to me to find that so many people have never heard of Stampin' Up! or rubber stamping before. If you're one of those people, I hope you'll browse around a while. I believe strongly in honesty, integrity and helping others, and I'll never, ever recommend anything that I don't use and love myself.