The Stamparatus is the newest stamping tool — and I GUARANTEE you're going to decide that you NEED at least one! It's going to change the way you stamp, and before long you're going to wonder how you ever stamped without it!

*** NOTE: The ordering process for the Stamparatus is different than anything Stampin' Up! has done before. Scroll down to find out how to reserve yours. ***
What is the Stamparatus?
stamp (noun) – 
1

: a device or instrument for stamping; 

2

: the impression or mark made by stamping or imprinting; 

3

a : a distinctive character, indication, or mark; 3b : a lasting imprint
apparatus (noun) – a set of materials or equipment designed for a particular use
STAMPARATUS (noun) – an innovative stamp placement tool developed by Stampin' Up! in partnership with Stampin' Up! demonstrator leaders

Why do I need it?
The Stamparatus will give your stamping a consistency and efficiency like you've never experienced before. You'll love how it transforms your crafting:
Make multiples with ease
Consistently stamp perfectly clean, crisp images
Apply more ink and restamp for a mistake-free, darker image without starting over
Make fewer mistakes — saving paper, time, and money
Easily line up your 2-, 3-, and 4-step images flawlessly every time
Stamp without the pain of holding small stamp blocks
What makes it unique?
Two open sides allow you to use larger sized paper or card stock
Permanent rulers and gridlines make it easy to place your images just where you want them
Foam mats work with photopolymer stamps; they're removable to accommodate red rubber stamps as well
Two reversible acrylic plates give you four work surfaces for fast, precise stamping
Double hinges let you work twice as quickly
Two magnets hold your paper in place, and then store away safely underneath when not in use
"Stepped" plate holders create perfectly spaced repeated images, over and over again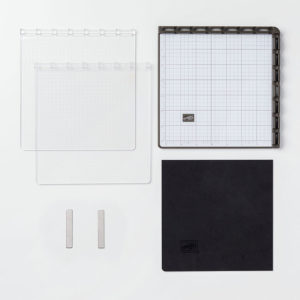 Have more questions? Learn more here:
Ok, so how do I get one?
The reservation window will open at 2:00pm (MT) on Tuesday, December 5th. 
Each person will be able to reserve ONE Stamparatus during the reservation period, which will close on December 30th. Products will begin shipping on March 19th and will continue through the following weeks (& months, as needed) in the order that reservations were received, as stock arrives to the warehouse.
You will not be charged until your Stamparatus ships to you.
Click here to download a Stamparatus Reservation Tutorial
Click here for Stamparatus Launch Q & A
This will be your last chance to reserve a Stamparatus before it becomes available when the 2018-2019 Stampin' Up! catalog begins in June.
CLICK HERE TO GO TO THE STAMPIN' UP! WEBSITE TO RESERVE YOUR STAMPARATUS