Over the next several weeks I am going to share lots of suggestions for GIFT GIVING this holiday season!
Here's an easy way to give the GIFT OF CREATIVITY to your family and friends this Christmas….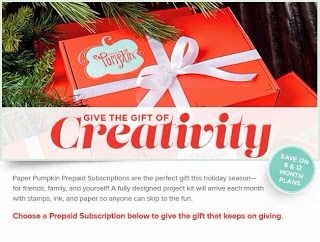 My Paper Pumpkin Kits are perfect for anyone on your gift list… Young or old! Current crafters or "newbies!" These kits are especially popular with college students — it's a chance for them to be "crafty" with out needing a lot of stuff or space! And you can give a pre-paid subscription for 1, 3, 6, or 12 months….
You can buy it now and you'll get a certificate for the recipient to activate the subscription anytime after they receive it!
Check out the November kit — it was awesome!
[video_player type="youtube" width="560″ height="315″ align="center" margin_top="0″ margin_bottom="20″]aHR0cDovL3lvdXR1LmJlL3lmOGxKNkZrekZJ[/video_player]
I have to tell you — I've had a lot of fun with these kits. And if you tried them when they first came out, you'll be pleasantly surprised at how they've been improved over time!
CLICK HERE to order your PRE-PAID MY PAPER PUMPKIN KITS TODAY!
or, if you'd rather……order a MONTH-TO-MONTH Subscription that you can stop anytime… (If you choose this option, it will begin right away with the next month's shipment!)
CLICK HERE to SUBSCRIBE TO THE MONTH-TO-MONTH PROGRAM
Happy Stampin'!